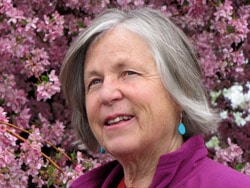 Throughout my life I have enjoyed reading, writing, and sharing stories.
In college I wanted to learn about the brain. How do we remember; why do we forget; why we want to try new things? Just how does our brain work? So I became a research psychologist and studied brain development at the University of Minnesota and as a post-doctoral scientist at the University of London. That might seem like a long way from writing books for kids, but it's not.
My work has always focused on children and young adults – as a researcher, counselor, teacher, parent, and now as a writer. I have conducted workshops on child abuse, learning disabilities, play therapy, and creative writing. My work and research has allowed me to live all over the world – in Malawi, Africa, Hawaii, Japan, the western Pacific, and, most recently, the Navajo Nation where I hike, ride my bike and attend local rodeos.
Story is a powerful way to build compassion and bridge understanding between cultures. Story has the power to heal as well as teach.
I have written several books including Navajo Year, Walk Through Many Seasons (Arizona Book of the Year) and Warriors in the Crossfire (Colorado Book of the Year). My recent titles include No-Name Baby (Top 100 Books of the Year, Bank Street) and my newest, a Junior Library Guild Selection, Cowboy Up, Ride the Navajo Rodeo.
Legends and folklore are of particular interest to me, for they hold the magic and mystery of other people's–or generation's–beliefs. When we read, we learn–about ourselves and about someone–or sometime–else.
My "bottom line" message: Read anything and everything. You learn interesting stuff, meet interesting people, and go places you have never been. Read every day. As a kid, I kept a stack of comic books under my bed. And a flashlight! Now I keep a stack of books next to my bed. You never know when you need a good book.
Resume
Recognitions
Outstanding Literary Artist, Governor's Award: Saipan, Micronesia, 1997
Outstanding Children/Young Adult Nonfiction Article: Children's Choice Award, 2007
Notable Social Studies Trade, 2007
Awards
Panda Book Award nominee 2022-2023, Younger Book Award category.
2016 SCBWI (Society of Children's Book Writers and Illustrators) Book Launch Award
Junior Library Guild selection, 2016
Publisher's Weekly Starred Review
Scholastic Book Club selection
NCTE (National Council of Teachers of English) Notable Poetry Books for 2014
Notable Books for a Global Society (NBGS) award list 2014
California Reading Association's Eureka! Nonfiction 2013 Honor Awards
New Mexico-Arizona Book Award - Juvenile Literature
PEN Steven Kroll 2014 (long list/ six books) recognition of picture book writing
The Horn Book recommended books, Native American
Colorado Book Award, Juvenile Literature, Finalist
Bank Street Best Books of the Year (ages 5-9: Today)
Library Guild Selection
A Green Earth qualified book
A Sigurd Olson Best Nature Writing Award Winner
ALA YALSA: 2011 Best Fiction for Young Adults
Booklist Editor's Choice 2010 for popular appeal and literary excellence
VOYA Magazine: Top Shelf Fiction for Middle School Readers, Feb 2011 issue
IRA Notable Books for a Global Society
Colorado Book Award
Nominated for the Oklahoma Book Award
Arizona Book of the Year
Children's Choice Award
New Mexico Governor's choice for first graders' "one book"
The Horn Book Guide: A top Historical Novel for YA readers
"Top One Hundred Best Books of the Year" Bank Street