Warriors in the Crossfire
Young Adult Historical Novel
ISBN #1590786610
Warriors in the Crossfire looks at one boy's experience of impending war – war fought by two nations, Japan and the U.S. – on the Pacific island of Saipan. The island's families are caught in the crossfire of invasion. In order to survive, Joseph, the main character, must find a new understanding of being a warrior.
This novel provides a historical perspective on American involvement in the Pacific front during WWII, an aspect of American history seldom represented in children's literature.
Warriors addresses important themes regarding survival of heart and spirit when family and culture are under attack. The novel is created through narrative but also includes verse and kanji, Japanese elements of writing.
Reviews
Quote by Ellen Levine, award-winning author of fiction and nonfiction books for children, including: Catch a Tiger By the Toe, a Booklist Top 10 Historical Fiction for Youth, and Henry's Freedom Box, a Caldecott honor book:
"Nancy Bo Flood reveals for us a world rarely spotlighted – the "other side" of the story of the World War II battle for Saipan. She tells a riveting tale, never skirting tough issues of mixed loyalties, if and when to ignore authority, and family ties that bind or don't. This is history that is gripping, enlightening and engaging."
Quote by author Janet Fox, when asked what books she is an evangelist for:
"...Nancy Bo Flood's Warriors in the Crossfire – the cover does not express what is going on inside that magnificent little book."
New review from youngest reader: 6-year old Liam Weil met with me in Hawaii to say:
"I read all of Warriors in the Crossfire and the best part was when the family was safe in the caves. Some parts were scary."
Liam's grandmother, the late Nancy Weil, who fought long and hard against cancer, was the first person to read the rough first pages of Warriors and encourage me to keep writing. "This story needs to be told," she nodded. Fifteen years later her grandson is reading those same pages.
"Nancy Bo Flood's novel casts a bright light on one of the forgotten shadows of World War II, the near total devastation of Saipan and the native people who lived there. Joseph's story forces us to pay attention, to see war itself as an event that affects more than the opposing forces and illuminates its darkest corners." -Kathi Appelt, author of many award-winning books for children, her latest, The Underneath, finalist, the National Book Award, Newbery Honor Book, ALA

"Having researched and written four books about World War II in the Pacific, I tend to be a bit harsh on any fictional attempt to recreate what happened during those terrible times. However, I have to say that I like this book, simply because it was so real. The characters in this book reminded me of people I knew during my years in the islands; people who lived before and during the fighting, and who had rebuilt their islands and their lives afterwords. The events that Nancy Flood creates in her novel could have happened. I would go so far as to say they did happen even if the names are fictional. Hollywood should make a movie out this." -Bruce M. Petty, author of Saipan: Oral Histories of the Pacific War.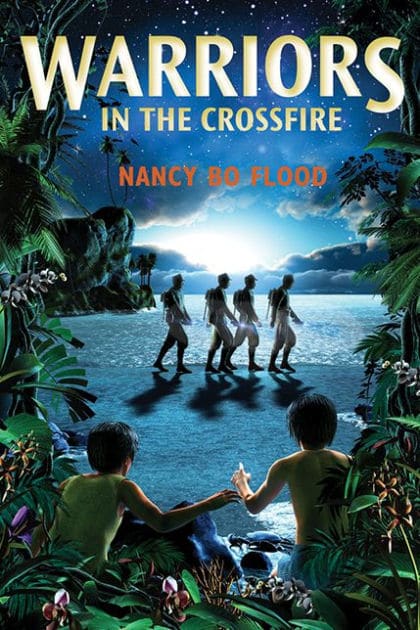 Buy an electronic version of Warriors in the Crossfire at Namelos.com
Teachers
Download Teacher's Guide / Discussion Questions (Word Doc)
Awards
VOYA Magazine: Top Shelf Fiction for Middle School Readers, Feb 2011 issue
IRA Notable Books for a Global Society
Colorado Book Award
Recently nominated for the Oklahoma Book Award
Reviews
Interviews with Nancy