Interested in an Author Visit?
Nancy Bo Flood can come to your classroom, library, or writing workshop! Visit packages vary in length and are a fun, innovative, and affordable way to learn about Navajo or Pacific cultures, creative writing, or the desert landscape. See the full menu of topics listed below.
Type, length and costs vary from a simple 1 or 2 hour "meet the author" to a full day or even full week of writing workshops. Costs also vary and are negotiable. Factors considered are number of author events and numbers of books purchased.
For detailed information on event topics and costs, please contact Nancy.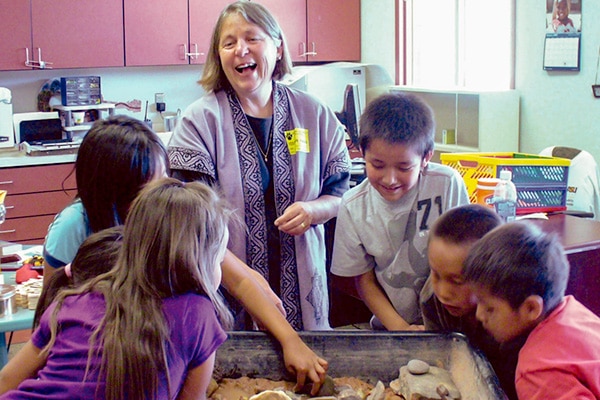 I Skype · an interactive online author visit
30 to 45 minute visit with your students.
My pleasure after students have read one, two or several of my books.
Affordable: $50.00 for 30 minutes; $75.00 for 45 minutes
Before the skype visit, I invite students to send questions. The more interactive the author visit, the better. Students have shown me via skype their own creations based on their book discussions, including poems, parts of plays and puppet shows, and even an original song. Also I am happy to read a requested passage from one of my books.
To request more information or specific dates, please contact Nancy.
"Thanks so much Nancy! That was fantastic! We loved hearing your stories and participating with you. You were awesome! And the technology worked! yay! Thank you." -Minnesota Teacher
Testimonials
"Nancy Bo Flood is an amazing author and storyteller! My students were hooked from the moment she walked into our classroom. Nancy brought her stories to life through reading, acting, signing, and howling. The children were focused, engaged, and ready for more. Thank you, Nancy, for actively sharing your stories and adventures with children. Mine are still howling." -Carrie Ann Smith, Moab Charter School
"I was impressed with the immediate rapport she established with every class she visited, as well as the energy and passion she communicated in the well-planned, expertly paced, high-interest assemblies she lead. I would recommend Nancy Bo Flood to any elementary school that is interested in generating enthusiasm in literacy and giving students a memorable experience that will help them see themselves as writers, too." -Marlena Day, Indian Wells Elementary School, Holbrook, AZ
"Nancy led a wonderful creative writing workshop for teens at our library. Her knowledge of and experience in the writing and publishing industry was an inspiration to our students, and they left the workshop with renewed enthusiasm for writing. Thank you, Nancy!" -Erin Hollingsworth, Teen Librarian, Basalt Regional Library, Basalt, CO
"Nancy, Thank you so much for your visit. Your visit was not only interactive, but also a great way for our students to connect with an author who understands the cultural background of our Native American students. Your presentations provided a real understanding for our students to show them how they can extend themselves as writers of their own real life experiences…  Your program was a great extension for our school and the Reading is Fundamental program." -Melissa Miller, Whiteriver Elementary School, Whiteriver, AZ
"Nancy Bo Flood has attended the Bioregional Outdoor Education Project conference for several years. Her ideas have sparked new ideas for many teachers who attend. Her books are so inspirational, moving, and great assets for the classroom. She has had sessions demonstrating how to connect hands-on activities with her books to reinforce concepts in students' minds. This year we were honored to have her as the keynote speaker." -Becky Kerr, New Mexico Regional Coordinator, Bioregional Outdoor Education Project
"I loved the activities and suggestions for using COWBOY UP with kids. All were easy to use and non-threatening to kids and adults. COWBOY UP is a great stepping stone to other books and activities. I hope the teachers will be interested in scheduling Nancy Bo Flood for a visit at their schools." -Mary Wong, Tucson Book Festival, Author Committee