by Nancy Bo Flood
Photographs by Jan Sonnenmair
Published by Fulcrum Publishers, Golden, Colorado
This book and the photographic images presents a sense of wonder and mystery about water, presenting unusual information - regional, global and astronomical - and then describes ways to conserve this resource that is essential to life - from birth to death.
Water Runs Through This Book is written for readers, young and old, "green or not yet green" who are interested in participating through art or action to increase water awareness and water conservation. Through photographs, verse, and narration, this book celebrates the most essential ingredient to life: water.
Author and educator Nancy Bo Flood and award-winning photographer Jan Sonnenmair combine imagination and information to explore this ever-changing yet essential element.
Water Runs Through This Book is much more than an exploration of how water impacts life on Earth. It is a guide for how readers of all ages can become conservationists and protectors of this endangered resource.
Green Earth Book Award List
Water Runs Through This Book has been added to the 2016 Green Earth Book Award Qualifying List. The Nature Generation created the Green Earth Book Award to promote books that inspire children to grow a deeper appreciation, respect, and responsibility for their natural environment. This is an annual award for books that best raise awareness of the beauty of our natural world and the responsibility we have to protect it.
"Nancy Bo Flood uses poetic language to explore geology and beauty. Sand to Stone and Back Again is a wonderful read aloud to introduce and expand on classroom studies of geology, particularly the rock cycle." -April Pulley Sayre "Readers of all ages will be awed by nature's breathtaking beauty, and humbled by the ongoing beat of life. The kid-friendly glossary will surely spark conversation between adults and young readers, as well as ignite a passion for the health of the planet." -Sheri Bell-Rehwoldt
Utah Water Week
As part of Utah's Water Week events Water Runs Through This Book by Nancy Bo Flood was chosen to promote an inclusive, diverse, water-wise community in Utah. Copies of the book are being donated to 210 libraries in Utah, and 25 libraries in southern Idaho. Nancy will give talks and workshops at Utah schools and libraries.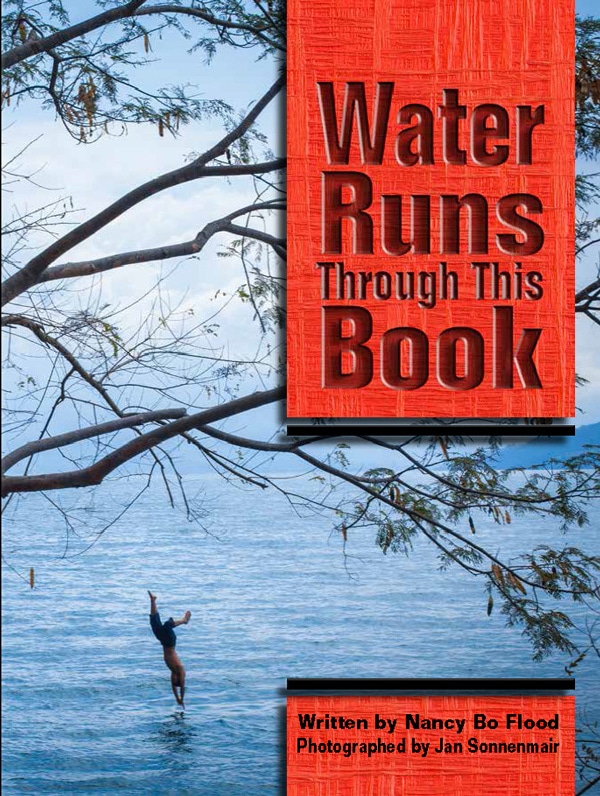 Water Runs Through This Book, 2015
A Green Earth qualified book
A Sigurd Olson Best Nature Writing Award Winner
Downloads
Read More