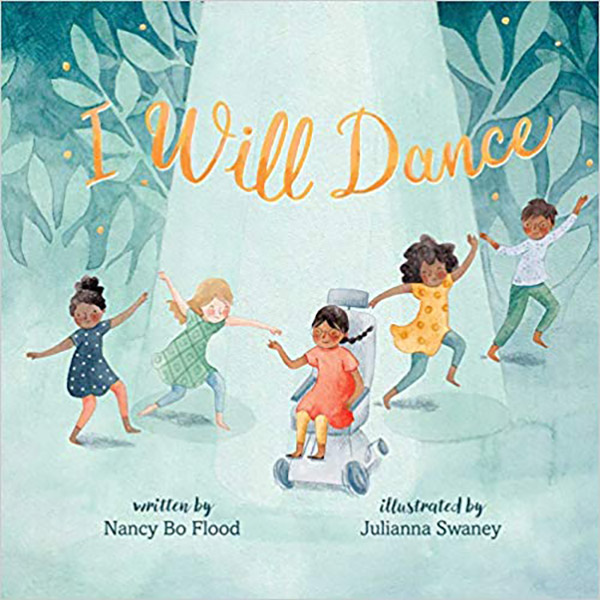 Written by Nancy Bo Flood
Illustrated by Julianna Swaney
This poetic and uplifting picture book follows a young girl born with cerebral palsy as she pursues her dream of becoming a dancer.
Like many young girls, Eva longs to dance. But unlike many would-be dancers, Eva has cerebral palsy. She doesn't know what dance looks like for someone who uses a wheelchair.
Then Eva learns of a place that has created a class for dancers of all abilities. Her first movements in the studio are tentative, but with the encouragement of her instructor and fellow students, Eva becomes more confident. Eva knows she's found a place where she belongs. At last her dream of dancing has come true.
Bank Street Best Books
Panda Book Award nominee 2022-2023, Younger Book Award category.
Kirkus starred review, April 1, 2020 (online March 15, 2020)
A girl who uses a motorized wheelchair longs to dance.
The 10-year-old narrator can't blow out the candles on her birthday cake, but she has one wish: to dance. But how can she "swirl, leap, twirl" when she can move only her head, arms, and fingers? Pretending isn't enough. At breakfast one morning (a spill-proof cup at the child's place adds cozy realism), one of her moms reads that the real-life company Young Dance is auditioning dancers of "all abilities, all ages." Though apprehensive, she needs to try. At the instructor's balletic welcome, she "swirl[s]" her fingers, joining a multiracial circle of dancers. Some dance unaided; some use "canes and crutches, / walkers and wheels." One wears a prosthesis. Their dancing is emphatically "not pretend"—neither imaginary nor relegated to a form of therapy. Eva's narration brims with elation as together they "create space, / create shape, / create dance," culminating in a triumphant performance. The text itself dances across the page, lines tiptoeing phrase by phrase and echoing the shapes of dancers' movements. Swaney's simply drawn dancers are rosy-cheeked and cheerful; magic shimmers from their fingers, proudly joining them "[a]s one, / as us." An author's note explains that Eva is based on a real dancer; a note from Young Dance's executive director describes the company. Eva presents as a child of color and wears glasses; her moms present white.
A gorgeous, immersive celebration of dancing and the grace within all bodies. (Picture book. 6-10).  Antheneum, Simon & Schuster May 2020
Thanks to Judy Bradbury for her blog essay about I Will Dance. It's an important resource for teachers, parents, and librarians. Full of dance in images, words, and spirit. Teaching suggestions are included plus several bibliographies listing good books with characters who are differently abled. Best of all, the post emphasizes the Eva's determination to make real her desire to dance and to belong within a community that sees her as Eva the person, the dancer. Read Judy's essay at judybradbury.com
Related Posts by Nancy Bo Flood: