The Navajo Year, Walk Through Many Seasons
For the Navajo people, the new year begins in October, when summer meets winter. The Navajo Year, Walk Through Many Seasons follows the Navajo calendar, and provides poetic descriptions of the many sights, sounds, and activities associated with each month.
With startling and realistic illustrations by the Navajo artist, Billy Whitethorne.
"... truly lovely verbal descriptions... The desert landscape comes alive with bright, stunning colors." - School Library Journal
Follow Coyote throughout the year in this beautiful and poetic award-winning picture book, and explore how the Navajo observe the rites and passages of each month.
Awards
2007 Children's Choice Award
2007 Notable Children's Social Studies Trade Book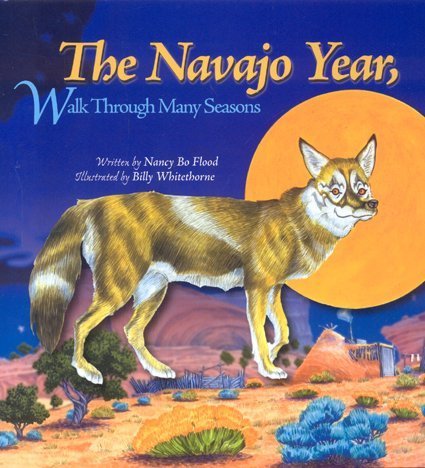 The Navajo Year Workbook
This book is a stew pot of ideas for writing activities and exploration. Also contact Nancy Bo Flood for author visits and writing workshops.
ISBN #1893354989