By Nancy Bo Flood; Shonto Begay, Illustrator
Charlesbridge Publishing, Hardcover, 9781580897020, 144pp.
Publication Date: August 23, 2016 · Purchase
Fourteen-year-old Tess is having a hard enough time understanding what it means to be part white and part Navajo, but now she's coping with her sister Gaby's announcement that she's going to enlist and fight in the Iraq war. Gaby's decision comes just weeks after the news that Lori Piestewa, a member of their community, is the first Native American woman in US history to die in combat, adding to Tess's stress and emotions. While Gaby is away, Tess reluctantly cares for her sister's semi-wild stallion, Blue, who will teach Tess how to deal with tragic loss and guide her own journey of self-discovery.
Lori Piestewa was a real-life soldier who was killed in Iraq and was a member of the Hopi tribe. Back matter includes further information about Piestewa as well as a note by author Nancy Bo Flood detailing her experiences living on the Navajo reservation. A pronunciation guide to all Navajo vocabulary used within the text is also included.
"…elegant…" -Publishers Weekly, starred review

"I could not put down this book… The remote canyons of Navajo Country are a land of shifting sands and spirits, where dreams and reality become one. In this mysterious landscape Tess journeys, seeking answers to hard questions." -S.D. Nelson (Standing Rock Sioux), author of Sitting Bull

"I highly recommend this book to all ages, it's exciting, captivating, and it has brought my Navajo childhood memories of long ago to life through Nancy's eyes." -Linda Ross (Navajo)

"it's just one of those books where you want to be in it!! Thank You to Nancy Bo Flood for writing a book that had me captivated from the first page until the very last word!!" -Holly Flora, Texan Girl Reads
Soldier Sister, Fly Home was selected by Tuba City Library, Navajo Nation, to be their Community One-Book-All-Read (their very first community all-read!).
The Arizona State Library system has chosen Soldier Sister, Fly Home, to make into an audio recording for their statewide program that brings books to patrons with disabilities.
Colorado Humanities & Center for the Book announced Soldier Sister, Fly Home is a finalist in the Colorado Book Awards juvenile literature category.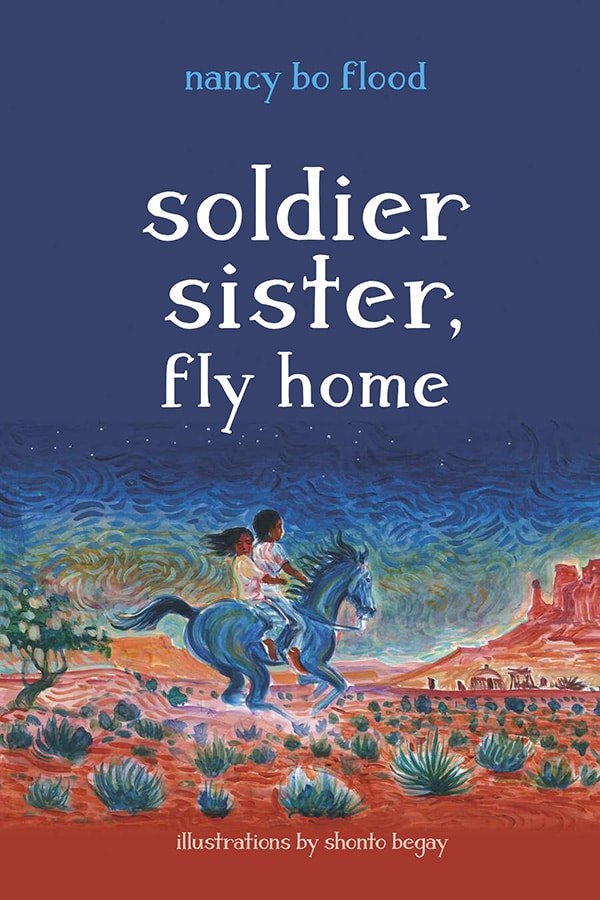 Nancy Bo Flood Awarded for Soldier Sister, Fly Home
From the SCBWI website:
"The Society of Children's Book Writers and Illustrators is pleased to announce the winner of the 2016 SCBWI Book Launch Award. The annual award, established by the SCBWI in 2012, provides authors or illustrators with $2,000 in funds to supplement the promotion and marketing of newly published works for children.
"Congratulations to Nancy Bo Flood whose winning book, Soldier Sisters, Fly Home (Charlesbridge), is the story of two sisters living on the Navajo Nation in Arizona, and the tensions that arise when one of them enlists in the US Army. Flood proposes to use her grant to visit Navajo schools, both to promote writing and literacy and to show students a positive portrayal of their own culture in contemporary literature."
Nancy Bo Flood on the impact of this award.:
"This grant is a special opportunity for me to share Soldier Sister, Fly Home with Native American students through book talks and writing workshops. I want to encourage and support students' own writing. Less than 1% of books published for children are about contemporary American Indians. Every child should see themselves—their stories, their landscape, and their people—in a book."