A book rocking with the sights, smells and sounds of rodeo.
A selection of the Junior Library Guild!
Published by Boyds Mills Press under their poetry Wordsong Imprint
"This smooth blend of prose narrative and free verse introduces the rodeo. Clearly written descriptions of sights and sounds common to rodeos large or small, along with vivid evocations of each event's speed and skill, are all tinged with clouds of dusty drama. In first-person poems, competitors—from young children to veteran bull riders—ruminate as they take their brief turns in the arena. Sonnenmair's atmospheric color photographs capture both contemplative and climactic moments, focusing mostly on younger performers or spectators. There are also portraits of a pair of decidedly dangerous-looking bulls and a tribute to the courageous rodeo clown. Even knowledgeable young cowpokes will come away understanding more about the rules, history, and appeal of this intergenerational event—and the author also ropes in a generous array of print and web resources for readers to explore." -Booklist Online

School Library Journal Review · April 2013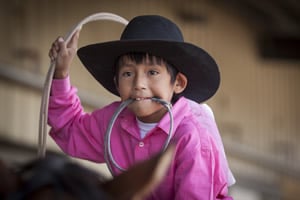 The history and tradition of the Navajo rodeo are made lively and accessible in this "day-in-the-life" account. Short narrative poems accompany each spread, recounting the anticipation, determination, danger, and excitement of the day.
"Big Brahma bull/stands square,/glares./Big Brahma bull/head down/ horns able/to rip a rider wide apart./Big Brahma bull…/My turn to ride." An announcer guides readers through the book (and each individual event) page by page. "Ladies and Gents, all eyes to the arena for our first timed event. Watch close, or you just might miss the action. These calf ropers are fast as lightning!"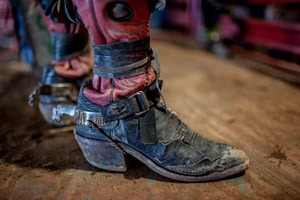 Children will easily be roped in, from barrel racing to steer wrestling, team roping to bareback bull riding. Each event is described in concise, informative detail. The colorful photos almost steal the show as they expertly capture the athletes and animals in action.
Warm and inviting, the book gives a real sense of what it's like to be a part of the Navajo rodeo. A top-notch introduction to a unique event. -Madeline J. Bryant, Los Angeles Public Library
Photos by Jan Sonnenmair ©Boyds Mills Press
Cowboy Up! Downloads
Cowboy Up! Awards
NCTE (National Council of Teachers of English) Notable Poetry Books for 2014
Notable Books for a Global Society (NBGS) award list 2014
California Reading Association's Eureka! Nonfiction 2013 Honor Awards
New Mexico-Arizona Book Award - Juvenile Literature
PEN Steven Kroll 2014 (long list/ six books) recognition of picture book writing
The Horn Book recommended books, Native American
Colorado Book Award, Juvenile Literature, Finalist
Bank Street Best Books of the Year (ages 5-9: Today)
Library Guild Selection
Related Posts