Many Ways We Tell Our Stories: Poetry in Public Places
December 24, 2019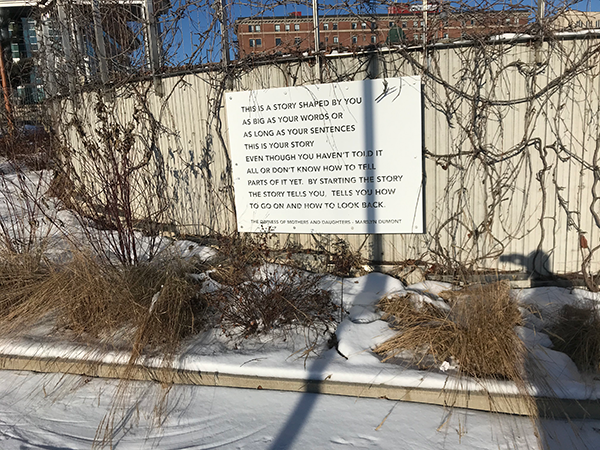 An homage to storytelling in Thunder Bay, Ontario, quoting from "The Dimness of Mothers and Daughters," by Marilyn Dumont. From the plaque (because it may be hard to read):
"This is a story shaped by you
As big as your words or
As long as your sentences
This is your story
Even though you haven't told it
All or don't know how to tell
Parts of it yet. By starting this story
The story tell you, tells you how
To go on and how to look back."
Marilyn Dumont was born in Alberta. She has published three award-winning books of poetry, including A Really Good Brown Girl, which won the Gerald Lampert Memorial Award in 1997. She is of Cree/Métis ancestry and is a descendant of Gabriel Dumont, a political and military leader of the Métis during the 19th century.
An interview with Marilyn Dumont for Canadian Literature.
Here's a video of Marilyn Dumont reading three of her poems at the Words Aloud 8 Spoken Word Festival in Durham, Ontario, Canada, November 6, 2011.