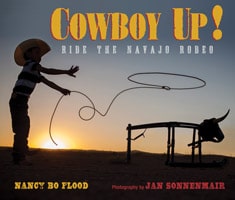 Cowboy Up! Ride the Navajo Rodeo by Nancy Bo Flood, published by Wordsong has been named to the 2014 Notable Books for a Global Society (NBGS) award list.
This award is sponsored by the International Reading Association (IRA) Children's Literature and Reading Special Interest Group. Each year a panel of judges selects 25 books published in the preceding year to represent the interests of students in grades K-12 on the many issues of diversity, social justice, and multicultural literature.
More information can be found at the NBGS website. Also, their journal, The Dragon Lode, will include an annotation of each book, teaching ideas, and similar books for teachers to consider using as mentor text and/or thematic groups.