Memorial Day 2022
May 26, 2022
War in the Ukraine.
War in the Middle East that ended for the U.S. less than a year ago after nearly 20 years.
May we remember and give thanks and honor to all veterans and their families. I especially remember this Memorial Day one young woman veteran who gave her life and who changed mine.
I lived and taught on the Navajo Nation for nearly two decades.  It was my privilege to share sheep camp, canyon walks, mutton stew, fry bread and lots of laughter. Thank you to all the Diné people for your welcome, for sharing your stories.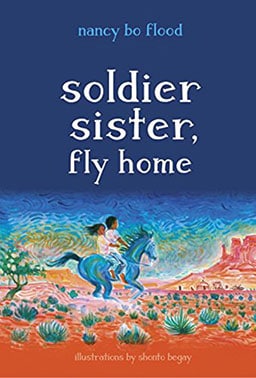 The story I wrote, Soldier Sister, Fly Home, was inspired by my incredible Navajo students and made possible by one special family, Lori's family.
I wrote Soldier Sister, Fly Home as a tribute to these dedicated students, to their families, especially the family of Lori Piestewa, who encouraged and advised me along my journey of writing Soldier Sister.
Lori Piestewa was an outstanding student and athlete. She died on March 23, 2003, at the age of twenty-three. She was awarded the Prisoner of War Medal and the Purple Heart. Her convoy became lost and came under fire while crossing the desert in southern Iraq, just three days after the United States invaded. Lori was able to save the lives of several soldiers, including Jessica Lynch, who was captured by Iraqi soldiers and whose rescue by the Navy Seals made international news. Jessica described Lori as the true hero. Lori's courage and marksmanship stood out among her peers.
Lori Piestewa was a member of the Hopi tribe and was also Mexican American. She is remembered as the first Native American woman soldier in US history to die in combat on foreign soil.  Soldier Sister is dedicated to her valor, her enthusiasm for serving her country, and her dedication to family and friends.
This weekend the sacrifices made by our soldiers and veterans are especially real and poignant as we realize the terror and destruction of war happening in Ukraine.
In Washington D.C. the National Native American Veterans Memorial has been completed: Warriors' Circle of Honor by Harvey Pratt (Cheyenne and Arapaho Tribes of Oklahoma). As part of the Smithsonian museums and memorials, its official dedication will be celebrated this coming Veteran's Day, November 11, 2022.
Pause with me to give honor and to remember the veterans in your family. Thank you.