Walking Grandma Home,  a letter to my readers 
January 3, 2023
Dear Reader,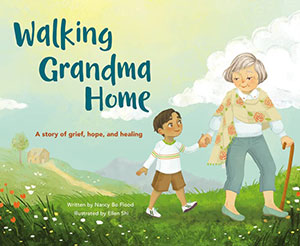 Thank you for taking a look at my newest book, Walking Grandma Home.
Why did I write a book for children about death?
I wrote this book for the seven-year-old child I was when my sister died.
She was five.
I was seven.
Five-year-olds are not supposed to die. 
Now all the rules are broken. 
I wish my mom or dad had this book then to read to me. We could have talked about what happened to someone else's sister, brother, parent or friend … not what happened to my sister … from a safe distance. We could have talked about the questions and feelings locked up inside me, the sadness, guilt, anger, and also the fears about "who is going to die next?"
When death happens in a family, especially an unexpected, "out of order" death, everything changes for a child. The security of a predictable universe is gone. The world is no longer safe. The important people who provide love and protection may be lost in their own grieving.
Reading a book together is a safe connection. At any time, after any page, a child can close the book. Stop the words, the images, the talking. Stop.
Or a child might read a story over and over again and then ask about "that person in the book, why did that person die?"
The right book shared with a loving adult can help a child heal. I hope Walking Grandma Home will offer families and children a place of connection, a safe place for listening, asking, and healing.
Nancy
You can pre-order the book, which will ship when the book releases on January 10th. Bookshop (local booksellers) • Amazon.com • Barnes & Noble • Books-a-Million