Read at Home
June 1, 2021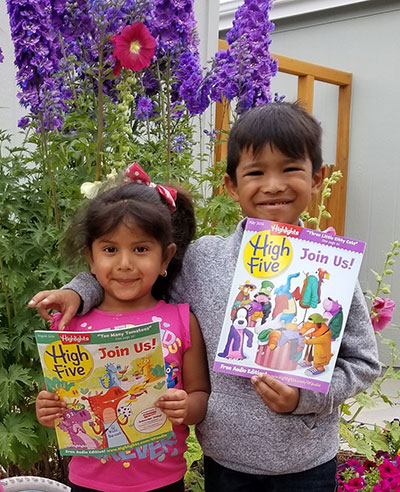 Remember when you were a child and how fun it was to have your very own copy of Highlights … or any children's magazine? Children haven't changed.  Research shows that reading at home from birth throughout childhood is the most important way to develop a child's language and literacy skills.
But some children don't experience this connection between reading … fun … and family.
I am writing to you as a board member of Read at Home (nonprofit) to tell you about this early literacy project for ages 2 to 6. Our goal is to strengthen positive connections between reading—fun—and family among Native American families. We support early childhood programs by providing high quality magazines which children can take home after reading them in their classrooms. Read at Home's founding member, SD Nelson, Standing Rock Sioux, author, illustrator, and teacher, is passionate about the importance of early literacy as essential to success in school and in life.
Take a look at our Read at Home website. Enjoy the photos of children busy reading in the Photo Gallery!
Please consider making a donation. With your donation, we will provide monthly subscriptions to high quality magazines that are age-appropriate, engaging, and easy to read.
Throughout the pandemic, Reservation schools have been closed but have continued virtual instruction—challenge when many families do not have reliable Internet and have limited access to libraries or bookstores.
Schools have sent work home to children via a monthly Discovery Bag that parents pick up. These preschool bags also include students' individual copy of High Five magazine from Highlights. Teachers and parents continue to comment how excited children are to have their own copy to read at home.
Check it out. One family, one year's subscription – $15.00.
Thank you.