Read at Home: a New School Year
August 16, 2022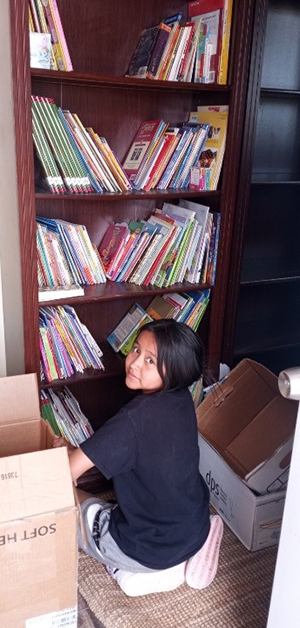 Probably one of the most important "success" skills parents can give their children is a love of reading which begins at infancy and continues as parent and child enjoy sharing a book, singing a song, humming a lullaby or listening to a story together. Read at Home is an early-literacy nonprofit that encourages and supports reading at home. (Nancy Bo Flood, board member)

The school year has begun!
Approximately 450 subscriptions of Highlights' High Five children's "learning and literacy" magazine will begin arriving at schools on a variety of tribal nations. I share these words said—with a big hug—by one of the preschool teachers:
"Parents have repeatedly expressed, 'This means so much. Someone cares. Even during covid and shut-down isolation.'
The preschool teacher continued,
"At our preschool, each month, every child receives their own brand-new magazine to read with the family. Receiving and sharing is an important connection, emotionally and educationally, between child, family, teachers, and school. I'm sure it sounds over-stated—how can one magazine mean so much? But imagine not having any library, no bookstores, no way to get something new for your child to read unless you drive nearly 100 miles."
Read at Home provides subscriptions to individual preschool and Headstart students. The magazines arrive at the school. Teachers distribute each new issue to every child and then, during class time, they read the stories together and do the literacy "games and activities" together. Children then take their magazine home and share reading with their family. To support and encourage early literacy, Read at Home provides Highlights' High Five magazine to students on the Navajo Nation, the Shoshone-Bannock Reservation (Idaho), and St. Mary's school in Alaska.
St. Mary's is located about 100 miles from the mouth of the Yukon. The school was created by parents who wanted their children to attend a school near home, not a boarding school in a distant community. St. Mary's is a Yup'ik village in SE Alaska. For more information about the school, check out their website: https://www.smcsd.us/.
Thank you for your interest in Read at Home. Learn more at https://readathome.org/