National Native American Indian Heritage Month
November 30, 2021
Thankful for readers and librarians and bookstores and teachers and parents and grandparents—all who make our world of readers!
Wishing you a wonderful — and healthy — holiday season!
For a few more weeks, we continue our celebration of books written by and about Native Americans today. These books rock!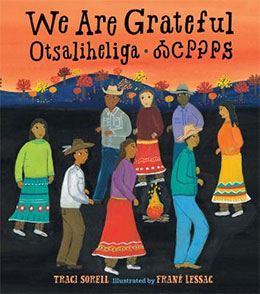 ReadBrightly.com recently posted a terrific list of books that show contemporary Native Americans celebrating who they are — their history, their culture, their beliefs. I am hopeful that our schools' curriculum will change and include a more honest and contemporary inclusion of Native American History — in all parts of the curriculum, all year, all grades, as well as including literature about and from the wonderful diversity of cultures which enrich our country.
Put away the paper headbands and feathers. Dispel inaccurate myths. Try some of these beautiful, honest, accurate, respectful books! Enjoy the feast.
One colorful and contemporary book of "grateful" to share with family — read together We Are Grateful: Otsaliheliga, one of several new books written by Traci Sorrell (Cherokee). Traci's words and the colorful, abstract illustrations by Frané Lessac promote contemporary Cherokee culture rather than generalizations about indigenous people or mythologized history.
Hungry for more books? Yes! Take a look at this list annotated by Olugbemisola Rhuday-Perkovich.