Behind the Book: I Will Dance
December 8, 2020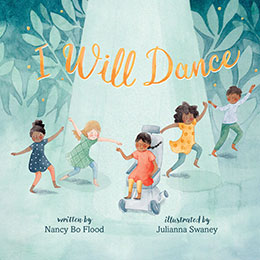 Why did I write I Will Dance?
I watched this unique community of dancers—all abilities, all ages—dance with such joy, my own tears tumbled down.
What did I see and hear?  Giggles, Smiles, Laughter. Hugs. A community sharing their passion—dance!
Dancers moved across and around the stage, some in wheelchairs, some with walkers, and some with independent mobility. Each dancer in awareness of others, each dancer a part of the whole. At performances, when I glanced around at the audience, again what did I see—not pity or sadness, but delight, amazement, joy. Tearful joy.
All of this is what Eva, the real girl who inspired this book, taught me. Eva was born in India, born an orphan, born prematurely, hardly able to breathe or move, and was not expected to live.
Because of her early birth, Eva developed cerebral palsy, CP, unable to move most of her muscles, even the muscles of her head, face, and mouth. Eva survived the many medical crisis of her first tenuous months and began her new life with her new family. Eva was adopted by an American family of two mothers and one brother.
Like every child, Eva was born with dreams. Let me try. With longings. Let me belong. And with the desire to be, and to become, herself, Eva.
Eva, a doer. Eva, a dancer. Eva, a young woman who loves to read, share a mocha coffee with a friend at Starbucks, have her hair styled and look especially pretty.
And now, as a member of the Young Dance Company, Eva is also a choreographer, creating new dances. Eva represents the spirit and vision of Young Dance, a spirit of inclusion—everyone welcome—and community—everyone an authentic contributor, all the individual dancers helping each other, celebrating each other, learning from each other.
During this time of quarantine, social distancing and isolation I began to wonder, how will these dancers continue to dance, perform, share and celebrate their community? So I began a series of interviews. Again, I was amazed.