Poetry Rodeo and Round-Up 2018
April 18, 2018
Participating in the Poetry Rodeo is something I look forward to for months. You'll see the joy on the faces of the poets taking part. Not only did we have fun, but we shared inspiration and important information about poetry with educators and librarians, encouraging them to use poetry in their work every day.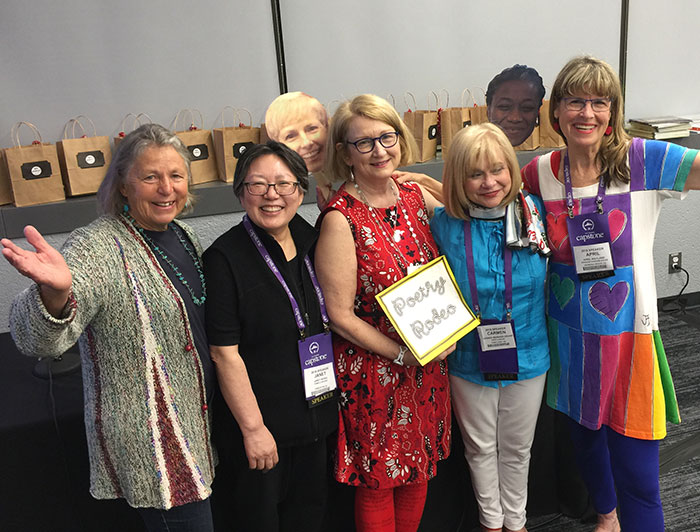 Some of the presenters at the Poetry Rodeo, from left to right: Nancy Bo Flood, Janet Wong and Sylvia Vardell (organizers), Carmen T. Bernier-Grand, April Halprin Wayland (photo: Holly Thompson)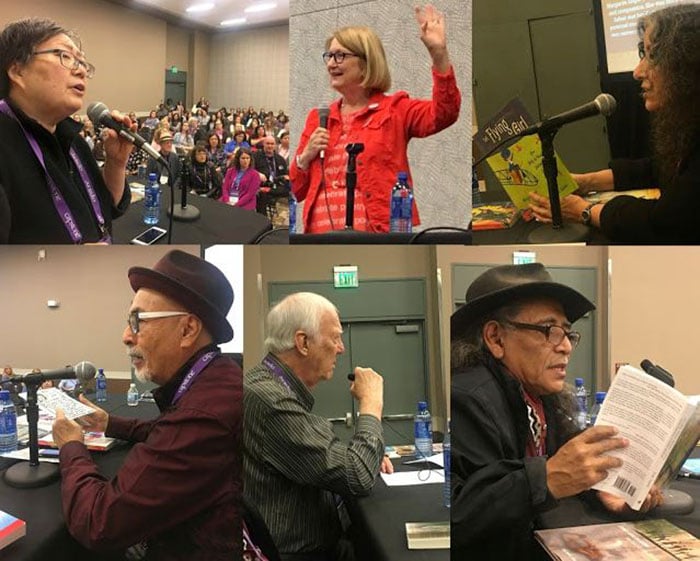 From top left: Janet Wong, Sylvia Vardell, Margarita Engle, Juan Felipe Herrera, David Harrison, Jose Argueta (photos: Holly Thompson)
Such an astounding collection of poets! in the photo above. Clockwise from top left:
Janet Wong has journeyed from substitute teacher to director of labor relations at Universal Studios Hollywood to author of many popular poetry books for children. When she discovered that teachers would like inspiration for teaching poetry, she and Sylvia Vardell published the first e-book collection of poetry for children, Poetry Tag Time, and then formed Pomelo Books, which has published more than 12 books of poetry for use in the classroom, featuring more than 150 children's poets, with Take 5 activities included.
Sylvia Vardell is a professor and author of the ALA bestseller Poetry Aloud Here, also Poetry People, Children's Literature in Action, and the co-editor of The Poetry Friday Anthology series (for K-5 and for 6-8), as well as the first digital anthologies of poetry for young people, the Poetry Tag Time series, all in collaboration with poet Janet Wong. Vardell is also the poetry columnist for ALA's Book Links magazine. A frequent speaker at conferences, Vardell chaired the NCTE Poetry Award committee and has served as a consultant to the Poetry Foundation. I hope you regularly read her blog, Poetry for Children.
Margarita Engle, trained as a botanist, has written a diversity of books: poetry, novels in verse, biographies, picture books. She writes from her heart and childhood memories, growing up in Cuba and then in California. Margarita Engle is the 2017-2019 National Young People's Poet Laureate, and USBBY's 2019 nominee for the Astrid Lindgren Award, the world's largest children's literature honor.
Juan Felipe Herrera, son of migrant farm workers, author of more than 30 books. In 2015, he was appointed the 21st Poet Laureate of the United States, the first Hispanic Poet Laureate. He is a performance artist and activist on behalf of migrant, indigenous communities and at-risk youth.
David Harrison's first book for children (The Boy with a Drum), was released in 1969 and sold over two million copies. The first of his long list of awards came in 1972 when he received the Christopher Award for The Book of Giant Stories.
Jorge Tetl Argueta is a native Salvadoran and Pipil Nahua Indian. His bilingual "food picture books" are fun and full of energy, culture, and delicious food. Guacamole was chosen by NBC Latino as one of the top five poetry books for children during National Poetry Month!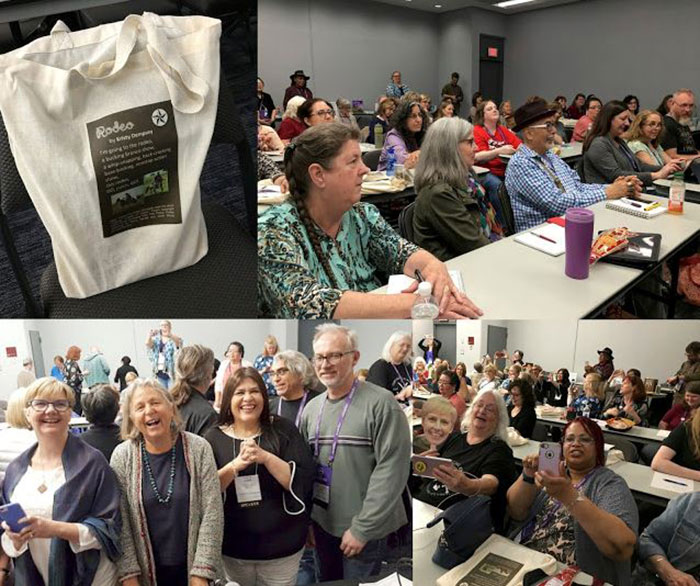 Above, clockwise from top left (photos: Holly Thompson):
We attended, we read poetry, we got the bag! All attending teachers and librarians at the sold-out event, Poetry Rodeo, received a BAG of books!  Donation of books from the publishers and also from the individual poets.  Sylvia Vardell designed, ordered, and individually ironed on the Poetry Rodeo label on the outside of each bag.
What do you call a roomful of poets? Shouldn't we have a contest for the official group name? Something like "an exaltation of larks"?
You take my photo and I'll take yours!
Kathi Appelt, Nancy Bo Flood, Guadalupe Garcia McCall, Bob Raczka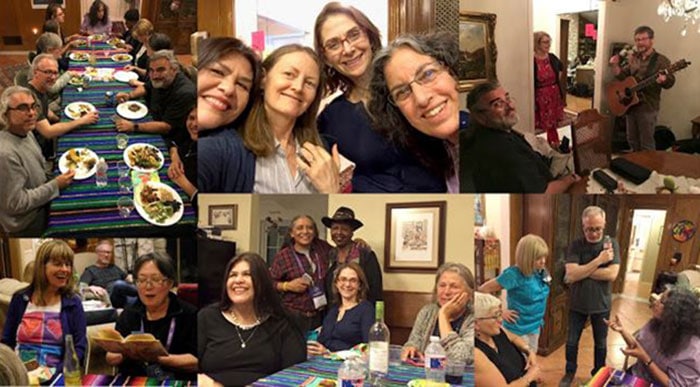 At a dinner hosted by Sylvia Vardell, university professor and driving force in the promotion of poetry for young people, we enjoyed good food, good conversation, and burgeoning friendships. In the bottom center photo, note that Nikki Grimes joined us for dinner wearing a handsome cowboy hat she borrowed from Jorge Argueta! (photos: Holly Thompson)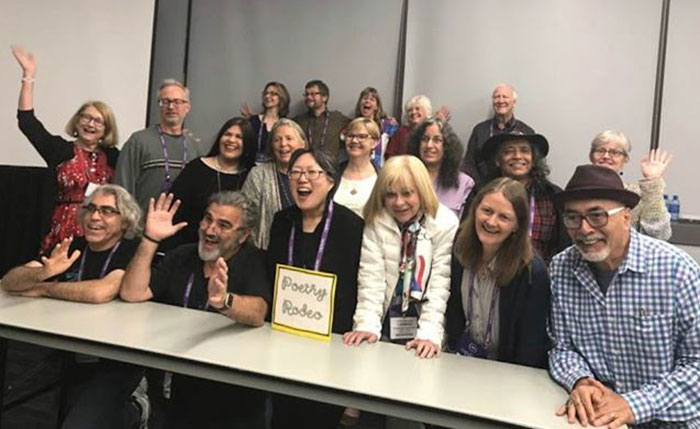 Look up each of these poets and read their wonderful poetry! Poetry Round-Up 2018 (photo: Holly Thompson)
Front row, left to right: Greg Pincus, Brod Bagert, Janet Wong, Carmen T. Bernier-Grand, Holly Thompson, Juan Felipe Herrera
Middle row, left to right: Sylvia Vardell, Bob Raczka, Guadalupe Garcia McCall, Nancy Bo Flood, Kathi Appelt, Margarita Engle, Jorge Tetl Argueta, Liz Steinglass
Back row, left to right: Laura Shovan, Eric Ode, April Halprin Wayland, Ann Whitford Paul, David Harrison