Many Ways We Tell Our Stories:
Giant Puppets, Giants Stories, Dangerous Ideas
September 17, 2019
We stump across the stage or parade down your street.
Hear us ROAR our terrible words.
Listen. Laugh. Perhaps shiver.
We tell the stories of freedom and liberty. All are welcome.
Come, join us.
Or arrest us, giant puppets jailed will do a protest dance, a resistance jig.
Can't lock up the puppeteers. They only pull the strings.
Watch out.
Can't catch us. Between the jail bars we fly, become dragonflies on stilts or maybe a merry marionette
Singing
The spirit of the people
Puppets speak for those who cannot. Say out loud what others only whisper. Puppets dare, break the rules, welcome strangers.
Giant or small, made of sticks or socks, cardboard or paper-mache', puppets voice the imprisoned, the poor, the silenced.
Puppets speak their dreams.
All lives matter.
Earth matters.
Every child matters.  Every child.
TRY THIS
Make your own puppet, puppet shows.
Speak to your librarian. They can point you to many resources for puppets and puppetry.
Take your favorite book and turn it into a puppet script.
Will you create giant puppets? Or shadow puppets? Or marionettes?
Start with simple forms, practice, and give shows to your friends and family.
Attend giant puppet shows and street theater. Observe puppet shows at your local library.
Before you know it, you'll be telling stories as a puppeteer!
READ MORE
Enjoy these books:
Ashley Bryan's Puppets:  Making Something from Everything, Ashley Bryan, Atheneum, 2014
Dressing the Naked Hand: The World's Greatest Guide to Puppets, Puppetry, and Puppeteering, Amy White, Mark H. Pulham, Dallin Blankenship, Familius, 2014
The Muppets Make Puppets: How to Create and Operate Over 35 Great Puppets Using Stuff from Around Your House, Cheryl Henson, Workman Publishing, 1994
Puppets and Puppet Theatre, David Currell, Crowood Press, 1999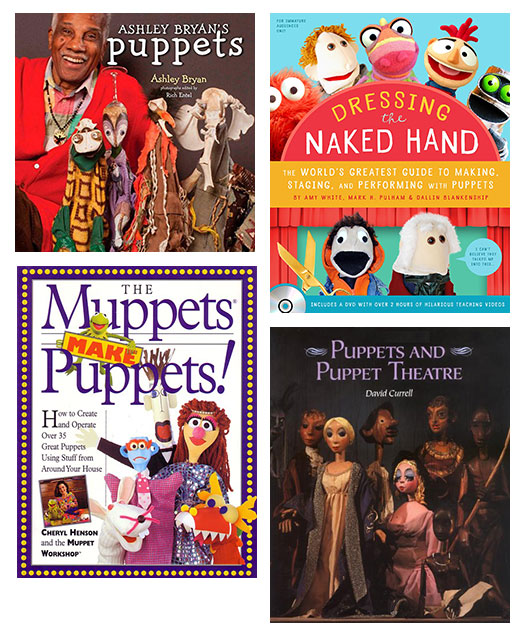 Enjoy these websites and news articles:
Bread and Puppet Theater, Vermont
"Giant Puppets," World Encylopedia of Puppet Arts
"Giant Puppets in Burning Man," Carros de Foc
Giant Spectacular, Liverpool's Dream