Chinle Planting Hope Mural
September 6, 2022
Adrian Thompson (Navajo) and volunteers are adding a 9 foot by 80 foot mural to the Thrift Store Wall, part of the Chinle Planting Hope and Read at Home projects in Chinle, Canyon de Chelley, Navajo Nation, Arizona. What's this project all about? Bringing hope in realistic ways to residents, many who live miles from many basic resources—even water!  This mural draws attention to any travelers driving down the main street in Chinle, US Hwy 191.  Stop in. Great prices. Great selection. Great company. All are welcome.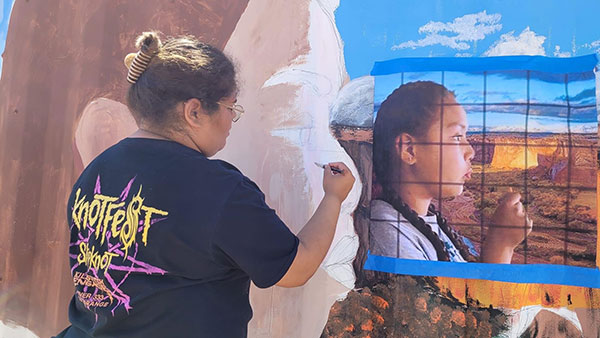 Other parts of this project include a R.E.A.D in Beauty Bookmobile. This traveling library is just about ready to roll! Piles of sorted donated books are ready to be checked out. Zerbi Teller, Navajo student, was the first "customer" to sign up for a Library Card.
The Wayfarer Foundation invited several of the board members and volunteers to participate in the opening of permanent exhibit in the Chicago Field Museum on Native American history and culture.
Chinle Planting Hope and Read at Home are two grassroots nonprofits with the goals of supporting early literacy: "readers make powerful leaders"
Additional goals: Build community. Live with Hope. Walk in Beauty. I am happy to say, "it's truly happening."
For more information or if you want to make a donation, contact Nancy Bo Flood via her website, www.nancyboflood.com or take a look at www.readathome.org. This year we are providing over 500 subscriptions of an award-winning magazine to teachers and their students.
Also, Chinle Planting Hope is hosting a virtual raffle for anyone who signs up through their website www.chinleplantinghope.com to become a monthly donor in support of the Bookmobile.  Just imagine, for children living in this part of the Navajo Nation, the nearest library or bookstore is over 100 miles away. Just imagine.