Celebrating American Indian Heritage Month, Part I
October 17, 2023
"Let us put our minds together and see what we can make for our children." 
Stated by Sitting Bull, Hunkpapa Lakota
November is American Indian Heritage Month. Let us begin with a celebration of books written by or about Native Americans.  First, some amazing picture books that might surprise you and will warm your heart. Ask your library for copies.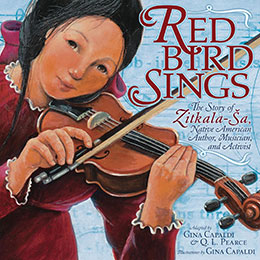 Zitkala-Ša was one of the first Native women to become a professional musician, author, and activist. Her picture book biography, Red Bird Sings, the Story of Zitkala-Sa was adapted by Gina Capaldi & Q.L. Pearce and illustrated by Gina Capaldi.  I share this quote written by Zitkala-Ša, a member of the Yankton Dakota Sioux:
"I shall always continue my path as … a voice for my people. For in my heart lives that wild girl of seven free as the wind and no less spirited than a bounding deer, ever chasing the great shadows that play among the hills of my home."
Zitkala-Ša was an accomplished professional violinist, wrote an opera, penned many letters to protest the treatment of her people, and wrote books still being read today. Be sure to read the additional information in the book's back matter. You will be amazed at all her many accomplishments.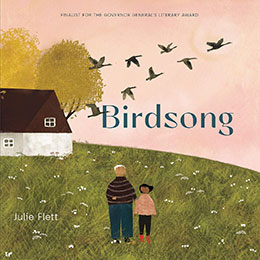 Birdsong, written and illustrated by Julie Flett, reads like a song. This new voice from Canada, Julie Flett, Cree-Metis, has received many awards for her work as author and illustrator. Take a look and you will understand why. Her images and words invite you to become part of the emotional and visual words she creates. Sometimes her stories speak about friendships, lost or regained; sometimes about our connections with art and nature. Her award-winning picture books, illustrated by Julie, include When We Were Alone by David Robertson; Little You by Richard Van Camp; Still This Love Goes On with words by Buffy Saint Marie. Books authored and illustrated by Julie include Wild Berries, We All Play, and more.
I think you will enjoy how each of her beautiful books speak to you.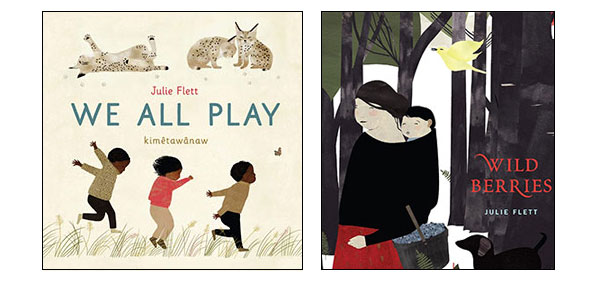 Later this month I will describe more wonderful books that provide insights and images that give us pause as we begin to think about what were the real events that happened on that first shared meal of Thanksgiving.